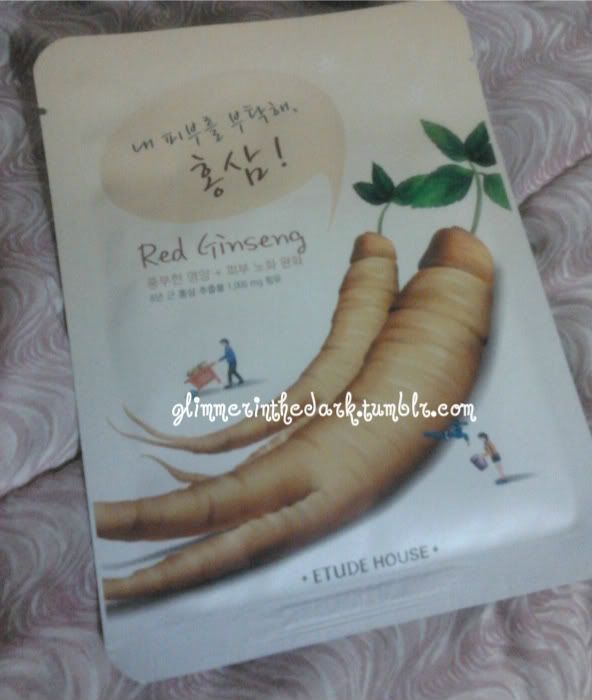 What does it do: Restores skin after being damaged by stress, pollution, debris and weather. Helps maintain firmness and smoothness.
How much: Php 58 (around $1)
Instructions:
Prepare skin with toner before using (helps make skin absorb the essence better). Apply the mask to face and leave on for 15-20 minutes. Gently massage remaining essence into skin.
Apply every 2-3 days for maximum effect.
This is actually the very first mask I tried from Etude House. I bought a lot of different masks to try actually, but I chose to use this first because the saleslady suggested it.
When I opened the pack, the first thing I noticed was the smell. It smelled like a vegetable! Most likely ginseng. It wasn't overwhelmingly bad, but it took some time for me to get used to it.
The fit of the mask wasn't perfect for me, the nose portion was too short and the bottom part of the mask is more suitable for people with a rounder chin.
While wearing the mask I didn't feel anything spectacular... I only noticed that my skin wasn't itching, so I took it as a good sign.
As soon as I removed the mask however, I immediately noticed that my skin was brighter and smoother. My pores looked smaller and my skin was glowing! The effect of the mask lasted around 3-4 days for me, before I noticed my skin was starting to dull again. (Quite possibly just because of me being tired but idk...)
Rating:
Packaging - 5/5
Price - 5/5
Effect - 5/5
Smell - 3.5/5
Overall - 4.5/5

Verdict:
Definitely a must try! It's great to refresh the skin and I highly recommend it!


Will I repurchase?
Yes! Definitely! The effect of this mask on my skin was wonderful and I was very happy about it :)