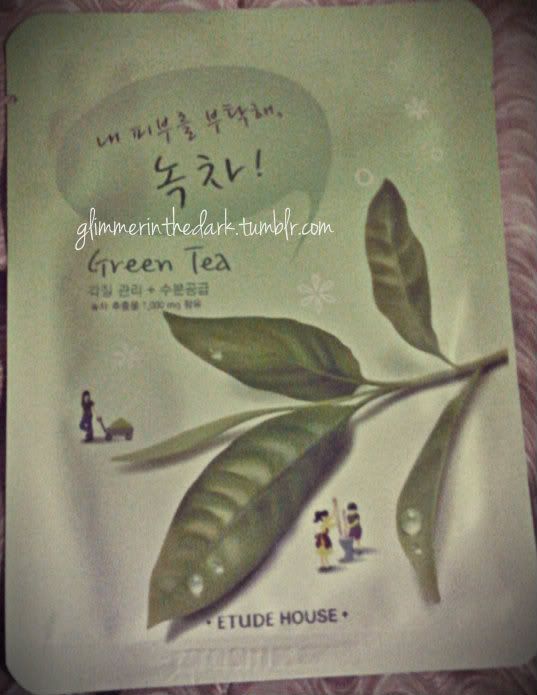 What does it do: Soothes and comforts stressed and fatigued skin.

How much: Php 58 (around $1)

Instructions: Prepare skin with toner before using (helps skin absorb the essence better). Apply the mask to face and leave on for 20-30 minutes. Gently massage remaining essence into skin.


I tried this mask over the weekend after a looooooong time of not using any masks. I stopped because my skin was breaking out in little pimplettes on my forehead and cheeks. However, my skin is a lot better now so I thought I'd give it a try.

The smell of this mask is not as strong as the other masks I've tried. It has a very gentle scent, which is nice. When I put it on, as usual, the mask didn't fit well with my face. The nose area was too short and the chin area too wide. I had essence dripping all over my neck haha!

I didn't feel anything significant or different while wearing the mask. As I took it off, I didn't see any great difference at first. But after a while, I did notice that my skin was a tad bit brighter. Not as big a difference as with the Ginseng mask though.

The next day though, I noticed that my skin was very soft and moisturized! It also looked very refreshed and definitely brighter. The brightening effect lasted for around 2 and half days, but the softness and moisture seemed to last well into the 4th day. By the way, the packaging says to use every 2-3 days for maximum effect :p So, yeah.. I didn't follow that since I was just testing the product...

One bad thing though, and I'm not even sure if it's related, is that I got pimples two days after wearing the mask! Two rather big ones and other tiny pimplettes around my cheeks. I don't know if the mask is what broke me out, or if it's just my skin. Could there be a connection?


Rating:
Packaging - 5/5
Price - 5/5
Effect - 3/5
Smell - 5/5
Overall - 3.5/5

Verdict:
Despite the pimples, I really liked how my skin became soft and moisturized. I think I'll need to test this out again when I don't have any pimples and see if I still break out. Did this mask break anyone else out? I think I'll give this one another go...

Will I repurchase?
Yes. Because other than the pimples, I think this is an okay mask :) Not spectacular, not a must have for me, but good enough.