Review Post: The Body Shop Winter Limited Edition Body Butter
What does it do:
Moisturize and hydrate skin.
How much:
Around Php 1400 (around $33)
Instructions:
Apply all over body and gently massage into skin. Best applied after bath or showering.
For those of you who are not familiar with body butters and how they differ from lotions, the simplest way to explain is that: body butters are more intense in terms of moisturizing. So if your skin is super duper dry, body butters are your best bet.
Most body butters are made from more natural ingredients, the most popular being shea butter. Body butters are thicker than regular lotions and therefore don't completely absorb into the skin, but leave a sheen on top and last longer. Lotions are more lightweight and easily absorb into the skin :)
This is a very late review since these were limited edition from last Christmas. But then, these are available every holiday season, so it's better late than never! :)
Texture-wise, these body butters were quite thick. I guess since they were Christmas edition, they were really meant for the cold, dry winter months. These were really greasy, really did not absorb unless I rubbed it into my skin for a while. Not the best idea to use them on a hot summer's day (super greasy!!!), but are better during cold weather here in a country with no winter.
They worked okay on my extremely dry areas (meaning my elbows), and I noticed that my arms became noticeably smoother and softer after
regular
use. (Think at least 5 days straight)
No noticeable difference after one day of use, but I smell good and my skin feels moist.
Packaging wise, its simple but sturdy. It's easy to bring with you, and easy to carry around in your purse. It comes with a twist cover, so it won't spill in your bag.
Of course, its still quite on the pricey side, though I saved a little bit by buying three in a set. If anyone knows an even better quality body butter that are cheaper than TBS, do let me know!
Read more below:
Candied Ginger
(Smells like Cinnamon to me!)
Cranberry Joy
(smells very light, smells like wine)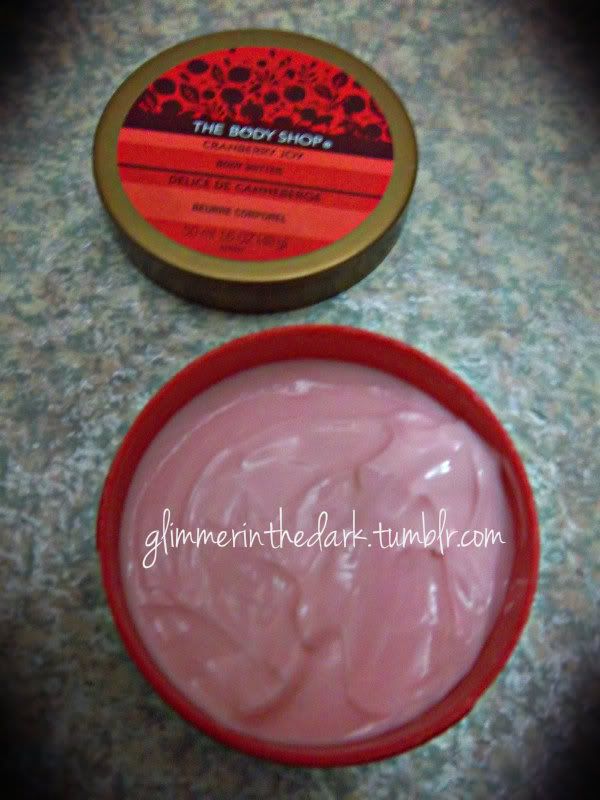 Spiced Vanilla
(Smells like powder)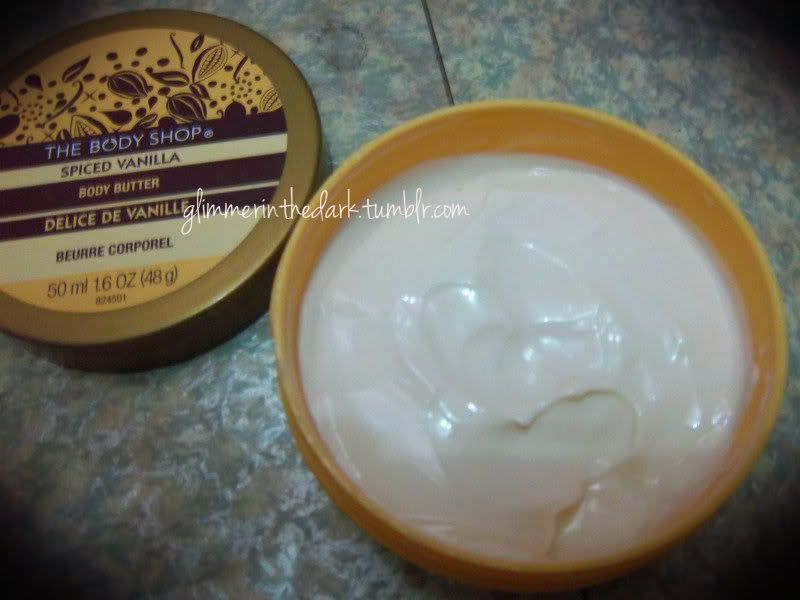 Rating:
Packaging
- 5/5
Price
- 2.5/5
Effect
- 4/5
Smell - 4/5
Overall
- 3/5
Verdict:
Though not the best range for the weather we have in the Philippines, I think its a pretty good body butter for those with really dry skin and for those living in colder weather.
Will I
repurchase?
I probably wont buy all three anymore! Haha! If I ever do decide to get this again, I'll probably just get one (Cranberry Joy since that was my favorite) and I'd probably wait for it to be in sale. Its not really worth buying in full price for me since my skin is not that dry and I live in a hot environment. (Unless you count the cold office!)